Bake your way into bliss with our cannabis infused recipes from the team at Great Northern! Try our sweet Peanut Butter Fudge, Raspberry Rhubarb Crisp Bars, or savory Jalapeño Cheese Bites infused with Full Spectrum Cannabis Oil – or the delectable Brown Butter Chocolate Chunk Cookies made with our 100mg Chocolate Bar!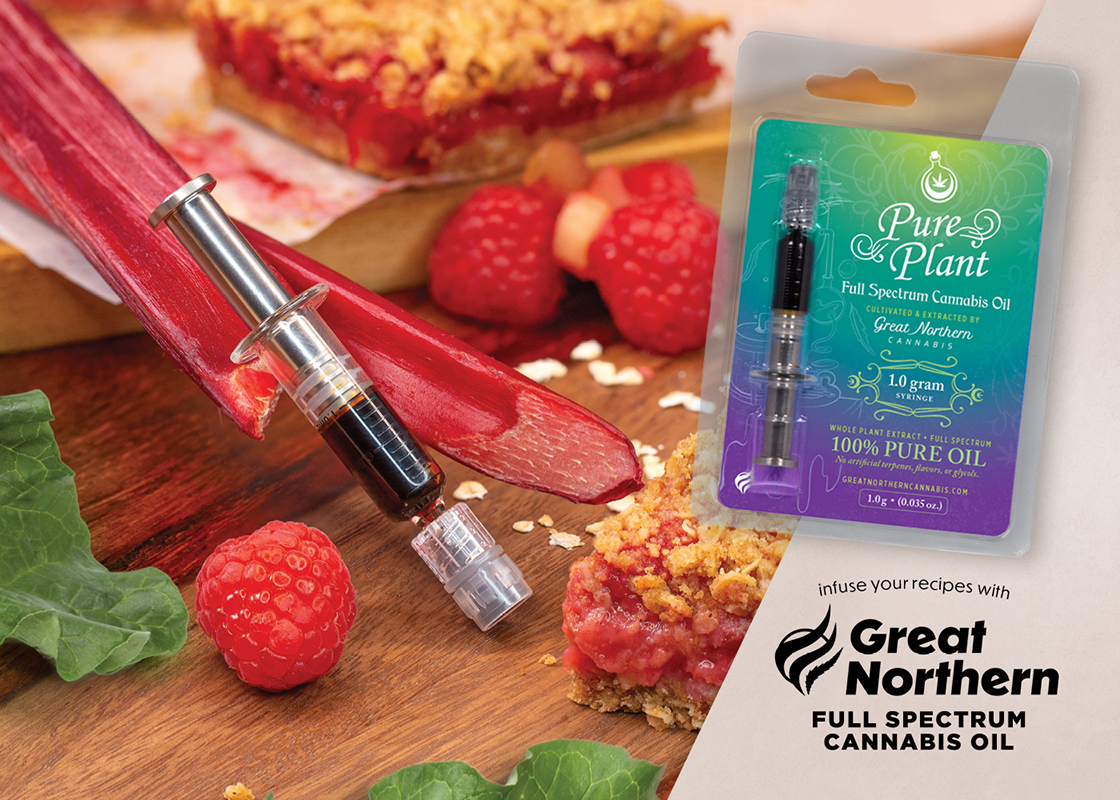 Raspberry Rhubarb Crisp Bars
Crumb Mixture
0.25g of a 73.67% THC Full Spectrum Cannabis Oil Syringe
1 stick Butter, melted
2 tsp Vanilla Extract
1/3 c Brown Sugar, lightly packed
1/2 tsp Cinnamon
1/2 tsp Nutmeg
1/4 tsp Salt
1 c Whole Wheat Flour
2/3 c Quick Oats
Fruit Filling
1 3/4 c Rhubarb
1 1/2 c Raspberries
1 tsp Lemon Juice
1/3 c Granulated Sugar
1 tbls Cornstarch
Makes 9 servings, 20mg THC per serving.
Preheat oven to 350°F. Butter an 8 inch square baking tray, line with a parchment paper sling, lightly grease parchment.
Prepare rhubarb by removing all leaves and any strings. Rinse thoroughly and cut into 1/4 inch pieces. In a bowl, gently fold rhubarb in with raspberries and lemon juice.
Whisk together granulated sugar and cornstarch. Pour sugar mixture over fruit and fold gently with spatula to coat, set aside.
Carefully warm sealed syringe in a glass bowl of water over a boiling pot, dry with towel.
In a mixing bowl, add brown sugar, cinnamon, nutmeg, salt, toss to blend. Work out any clumps before adding flour and oats. Combine well.
In another bowl, whisk warmed full spectrum oil and vanilla into melted butter, mix until fully combined. Pour butter mixture over oat mixture and stir with a spatula until evenly moistened.
Reserve 1 cup of the mixture for the top crumb. Firmly press the rest of the crumb mixture into an even layer in pan.
Spread fruit mixture on base crumb layer and evenly sprinkle remaining crumb mixture on the top. Bake for 30-35 minutes, or until top crumble is golden brown.
Let cool 30 minutes, transfer parchment sling to wire rack until cool, then cut evenly into 9 servings of 20mg or 16 servings of 10mg. Great served warm with sunshine, vanilla ice cream, and your buds!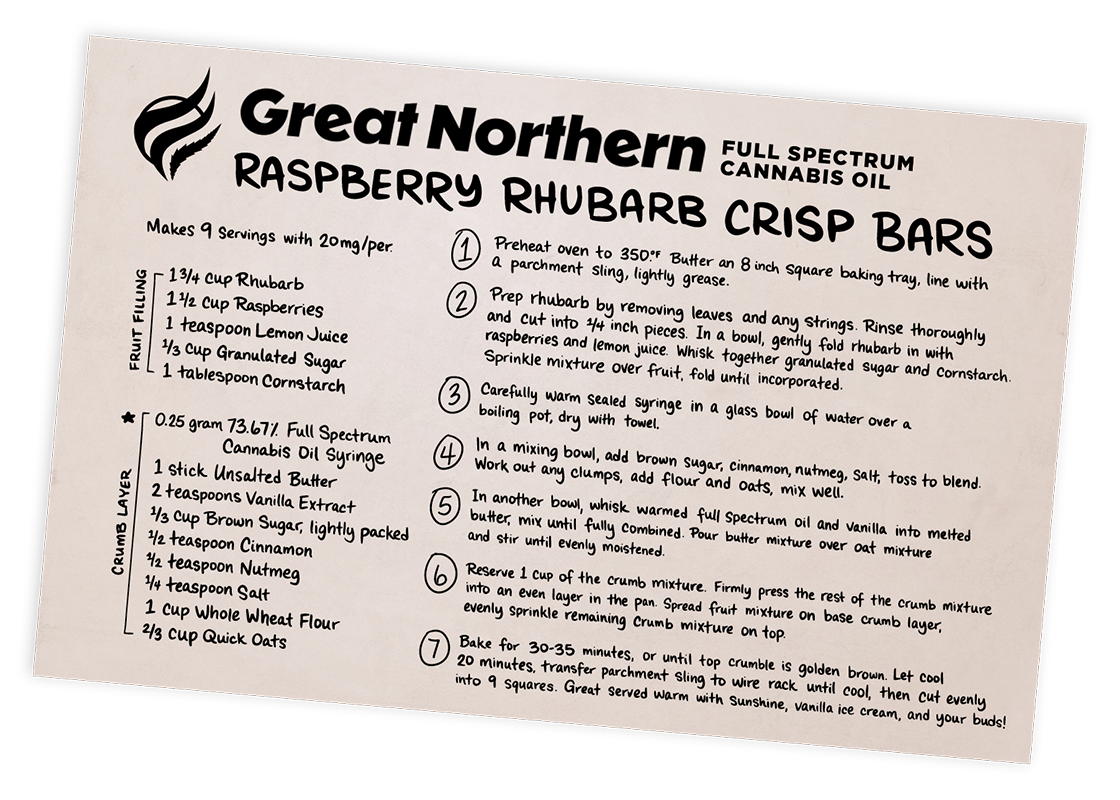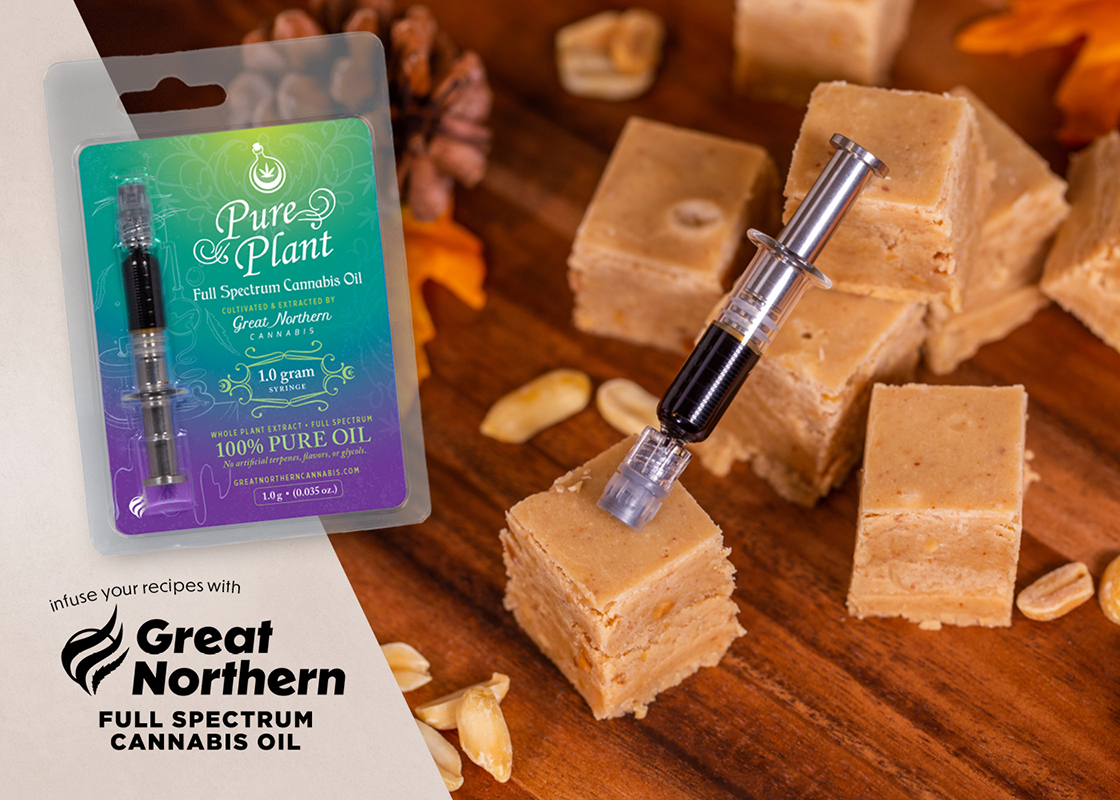 Butch's Peanut Butter Fudge
0.58 gram 68.07% THC Full Spectrum Cannabis Oil Syringe
3 cups Sugar
3/4 cup Butter
2/3 cup Evaporated Milk
7oz Jar Marshmallow Cream
16oz Jar Crunchy Peanut Butter
1 teaspoon Vanilla
Makes 40 2" x 1" servings with 10mg THC per serving.
Warm sealed syringe in double boiler on stove, dry with towel.
Melt butter with sugar and evaporated milk over low heat. Slowly bring to a full rolling boil. Cook for 6 minutes until candy thermometer reads 234 degrees F (soft ball stage) – DO NOT RUSH THIS STAGE.
Check to see if sugar mixture is at the soft ball stage by spooning a small amount into a bowl of cold water. Let cool for a moment then check to see if ball is sticky and pliable.
Remove from heat and stir in full spectrum oil, vanilla, peanut butter, and marshmallow cream together – continue to stir until mixture loses its gloss.
Pour mixture into a 9" square pan and let cool 1-2 hours before cutting into 2" x 1" pieces.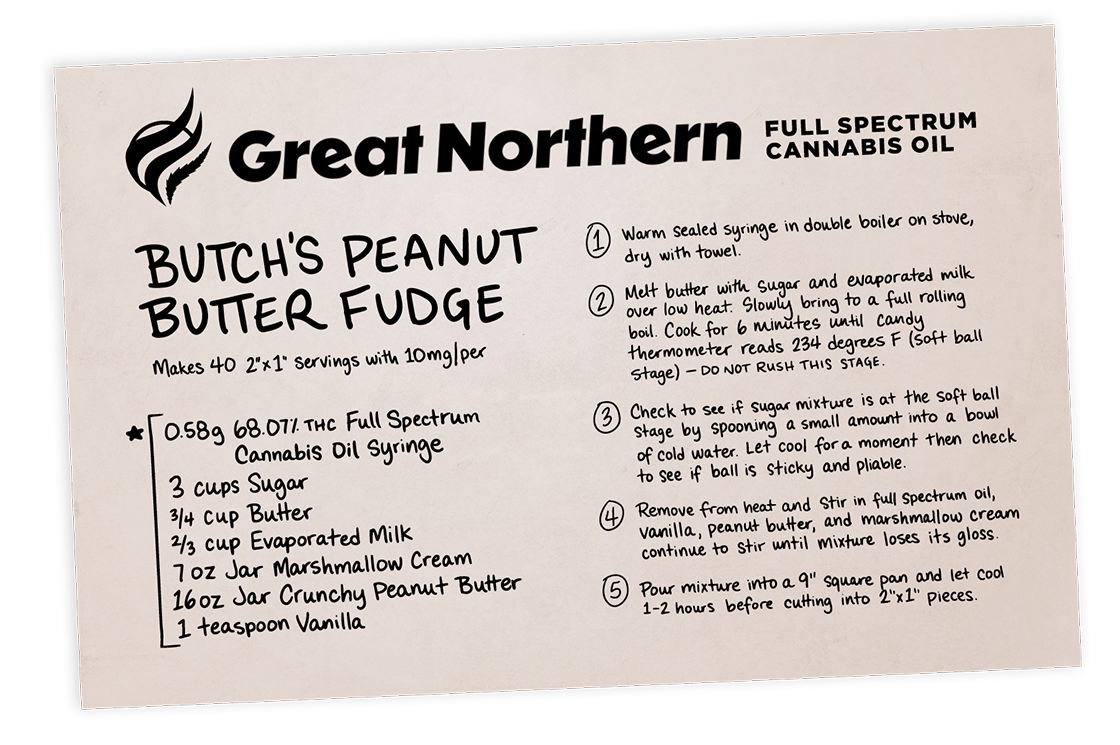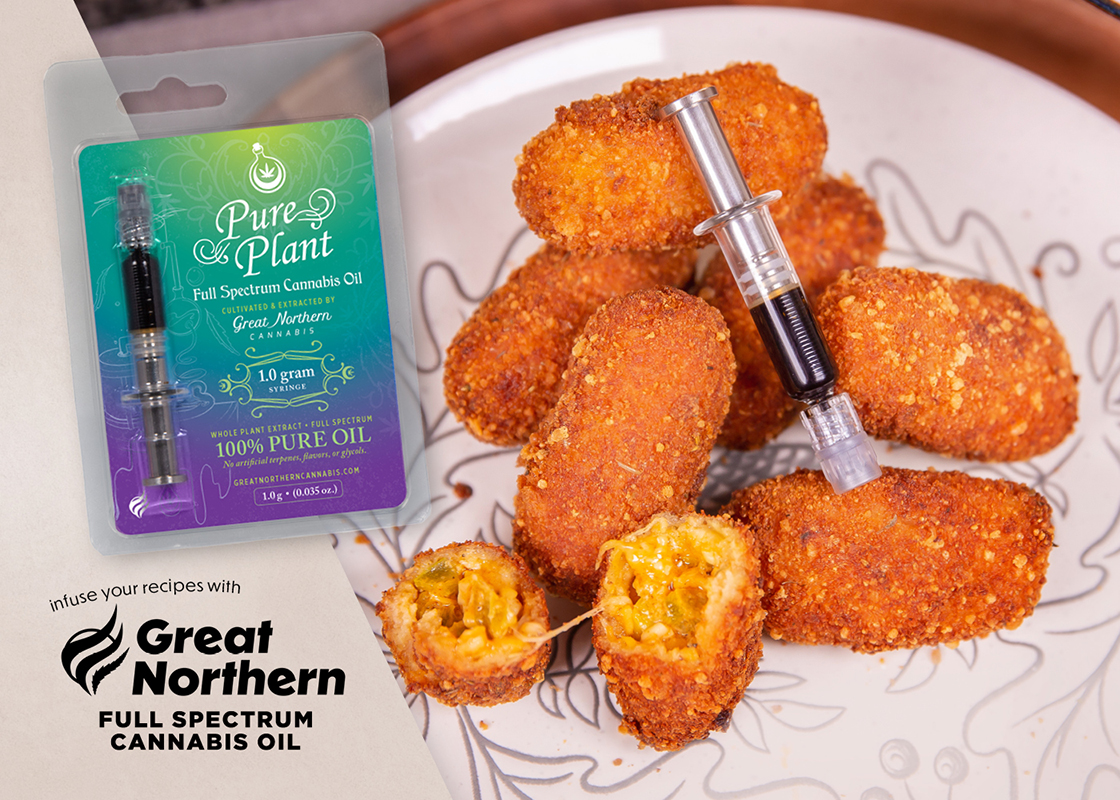 Smokey Jalapeño Cheese Bites
Cheese Mixture
0.15 gram 72.83% THC Full Spectrum Cannabis Oil Syringe
1/2 cup Mayonnaise
3/4 cup Shredded Medium Cheddar
3/4 cup Shredded Mozzarella
1 3/4 teaspoon Garlic Powder
1 teaspoon Cayenne Powder
1 teaspoon Smoked Paprika
1/4 teaspoon Salt
1/4 teaspoon Pepper
3/4 cup Pickled Jalapeños (chopped)
1/2 teaspoon Liquid Smoke
Egg Wash
2 Large Eggs
1/4 cup Milk
Flour Coating
1/4 cup Rice Flour
1/8 teaspoon Salt
Breading Mixture
1/2 cup Parmesan
1/2 cup Panko
1/2 cup Breadcrumbs
1 teaspoon Italian Seasoning
Makes 22 servings, 5mg THC per serving.
Warm sealed syringe in a glass bowl of water over a boiling pot, dry with towel. In a small bowl, whip mayonnaise and full spectrum together.
In a large bowl, blend cheeses and dry spices. Add infused mayonnaise, chopped jalapeños, and liquid smoke. Combine well with a spatula.
Measure 1 tablespoon portions into a silicone, water bottle ice cube tray – blending remaining mixture throughout process to ensure equally infused bites. Freeze for 2 hours. (Alternatively, measure out each portion on a tray, freeze for 1 hour, shape portion into 2"x1" and freeze another hour.)
Whisk together Flour Coating, Breading Mixture, and Egg Wash in three separate bowls. Gently toss frozen portions individually – first in Flour Coating, then Egg Wash and Breading, and again in Egg Wash and Breading, transferring with a fork from Egg Wash to Breading. Freeze in sealed container or cook immediately.
Preheat 3-4 cups oil in a pot over Medium High heat. Gently place batches of 5-6 bites into oil and fry for 3-4 minutes or until a deep golden brown. Let cool on a paper towel before enjoying.